Industrial Cables For Multiple Applications And Specifications
Cables are an important aspect of any industry and Havells, being India's largest manufacturer of cables and wires, produces a range of industrial cables including Multicore Cables, Low Voltage and High Voltage cables, EHV capable, Extra High Voltage Cables, etc. The cables are manufactured under eco friendly norms and are safe, reliable, fire retardant, fire resistant, lead-free & halogen free.
HT POWER CABLES
A range of reliable, safe and non- hazardous HT Power cables
Ideal for carrying current at high voltage, the HT cable range from Havells are manufactured at the largest integrated cable unit in India and use high quality copper and aluminium conductors. With benefits like high continuous current rating, higher short circuit rating, and longer life etc. they are available in single core and multi core. Heavy Duty XLPE power Cables from Havells are the ideal choice for HT power transmission and distribution.
LT POWER CABLES
LT power cables – With a host of safety features and durability
Ideal for distributing electricity to residential, commercial and industrial units the Low Tension Power Cables are made with high quality copper and aluminum to offer superior conductivity. Available in Single core and multi core configurations, they are safe, non hazardous, lead and cadmium-free and are manufactured at the largest integrated cables unit in India.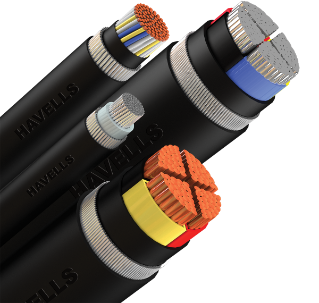 IT CONTROL CABLES
High quality IT Control cables for diverse applications
Manufactured at the largest integrated cables unit in India. The LT control cable range from Havells is used in various applications such as power supply to equipment panels, boards, and distribution boards. These cables are not only reliable but also offer safety and durability. The materials used for manufacturing them are non-hazardous and therefore are eco-friendly.